Nifty rallied in accordance with our buy call issued on 20th January evening. It managed hit our target zone of 7580-7630. In due course, we will issue a supplementary report on our 2oth January call in order to outline an unlikely sentiment indicator that was also flashing buy at the time. We also mentioned that the nature of this move would further confirm if we have a medium/long term bottom in place.
The price developments so far are positive. They appear to be impulsive in nature and not corrective. This is a very positive development and odds remain high that we may have in place a medium to long term bottom. The markets though may enter a corrective phase for a brief period which may witness a retracement by 38.2% to may be even 61.8%. Important levels to watch out for would include 7460, 7409, and 7377.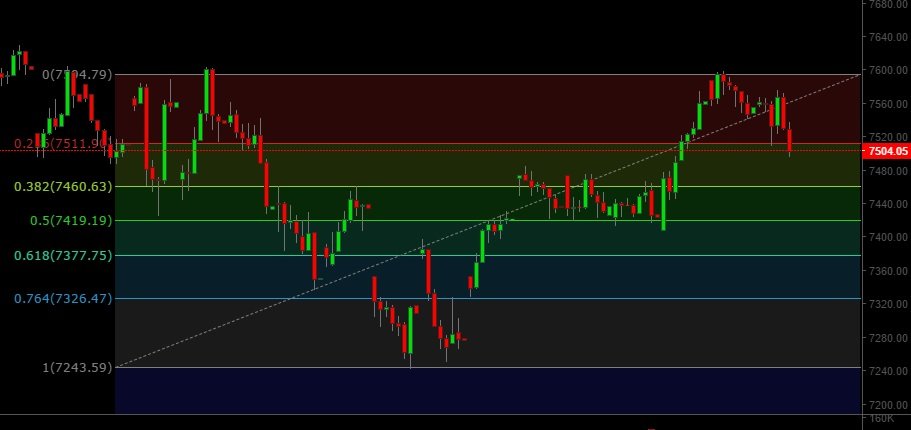 Off late we have seen that markets world-over do tend to correct deep. But still the depth of correction does give clues as to how powerful the next rally could be. If the correction is shallow we may expect a very powerful rally in the next leg. The fact is that until we see the breach of 20th Jan lows of 7241 our analysis remains in-tact. In the scenario that the lows of 7241 are indeed broken, that fall is very likely to be the last leg of the fall. We don't think it is likely that this scenario will materialize. Specially looking at Nifty IT which seems to be consolidating and preparing for another leg up.
Our recommendation is that long term investors continue to build positions in fundamentally strong stocks as many of these stocks are available today at throw-away prices. Mutual Fund investors should look at investing higher amounts around this time. Short sellers should tread with caution as the next rally if it materializes would be much stronger than the rally we witnessed from 7241. If our analysis is correct than the rally that begins after the correction might yield a healthy 550-600 points rally. Hence we recommend caution on the short side.