In our last post on Nifty we said:
"The price developments so far are positive. They appear to be impulsive in nature and not corrective. This is a very positive development and odds remain high that we may have in place a medium to long term bottom. The markets though may enter a corrective phase for a brief period which may witness a retracement by 38.2% to may be even 61.8%. Important levels to watch out for would include 7460, 7409, and 7377."
For the benefit or our readers, we are outlining the wave count in greater detail in the chart below:
This wave count satisfies all the 3 basic rules for an impulse waves in accordance with the Elliott wave theory, namely:
Wave 2 doesn't fall below the low of Wave 1
Low of Wave 4 doesn't enter the territory of Wave 1.
Wave 3 is not the shortest among waves 1, 3 and 5.
As can be seen from this chart all the three basic rules associated with impluse waves are satisfied. The development of this move is significant as it confirms that the z-wave within triple zig-zag (outlined in our 27-Jan report) has likely ended and a new trend is already underway. This remains our most likely scenario. However, considering the volatility in the markets, we are also outlining an alternate wave count of higher degree for z-wave for benefit of our readers. Currently this doesn't warrant action and our advise remains that long term investors should continue to build positions in fundamentally strong companies and avoid short selling.
Alternate wave count is outlined below: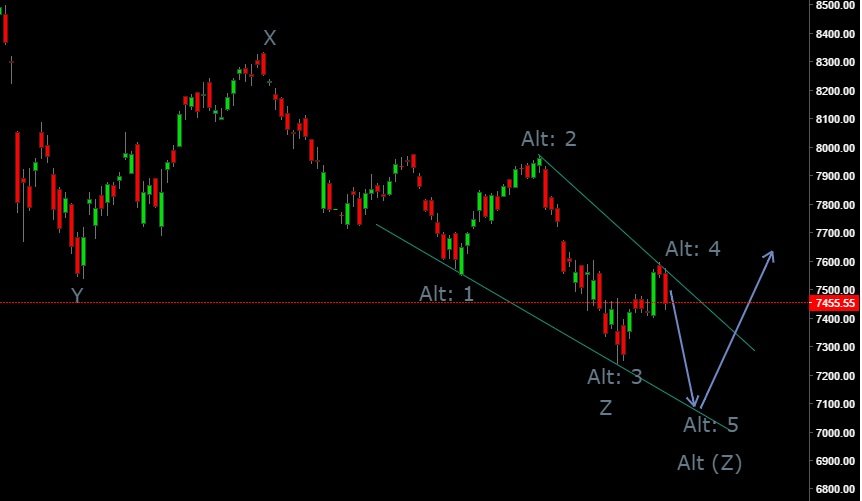 The alternate wave count is prefixed 'Alt'. The alternate wave count would modify the end of Z-wave in our triple zig-zag correction, and would entail a break of 20th January Nifty low of 7241 and prices would be expected to fall and reverse from around the Alt: 1 – Alt: 3 line in order to complete an ending diagonal triangle as part of Alt (Z) wave. This still remains our second most likely scenario, and we would keep our readers alert to a reversal from this scenario if this scenario indeed unfolds.