Nifty rallied from our crucial support of 8540 and hit our target of 8800 last week. Early this week the momentum seems to have continued. At the time of writing this article markets are trading close to the T1 trend line. The volumes so far are tepid which may warn towards today's gap up opening being closed but one should wait watch out for break of 8866 for any sign of weakness.
If the Nifty manages to stay above the T1 trend line it may activate a much higher target of 9140-9150 zone. Chart Below: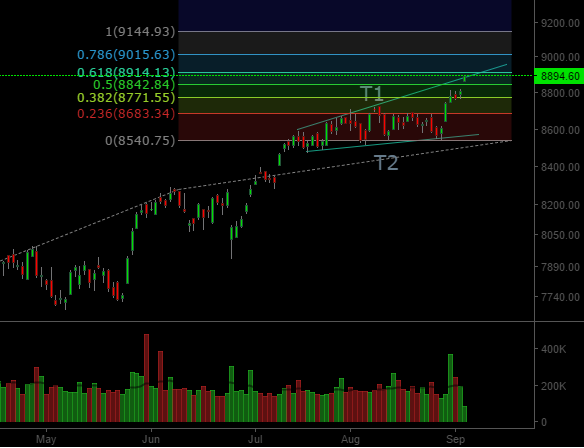 If today's gap up opening in Nifty has to close it should likely develop latest by tomorrow, absent which we will have to assume we are likely headed higher. Our cautious view is also based on increasing mainstream media coverage of Nifty movement by non-financial news websites As you would remember there was a similar (but actually bigger) coverage close to where Nifty bottomed out. For details read: Nifty Market Update: Some indicators align, but not all!.
We also had #Sensex briefly trending on twitter this morning, which should be considered a contrarian signal. But, this alone cannot be enough for a correction to materialize as the trend may still have room to stretch. Hence it would be prudent to wait and see if we can break 8866 by tomorrow. Absent which we would anticipate the move would carry further to 9140-9150 range.