In our last post we mentioned how some indicators have aligned but prices have not. The market action on Friday has given some indication of buying emerging as markets managed to stem and recover from the intra-day fall to close near the opening price of the day creating a Doji. In order for this Doji to be of any value we would need a positive close on Monday. This though might not be enough as we would need to wait for further confirmation.
The long term picture though remains that we are in Z-wave of a triple zig-zag correction and possible wave count(s) for the fall since March '15 is outlined in the chart:
[sociallocker]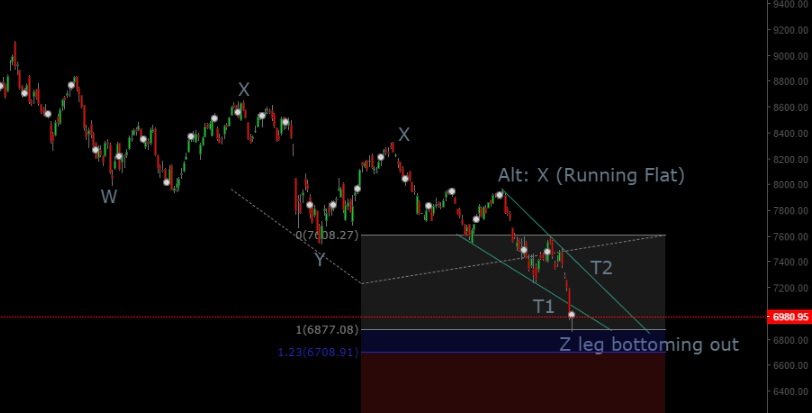 [/sociallocker]
While broadly there may be a re-labeling required with respect to the last X wave (as either a zigzag (X)or a running flat (Alt: X)), it doesn't change the long term picture with respect to the expected rally at the end of the Z-wave. A re-labeling would mean we would need to see the last Z-wave as a zigzag and would explain why we called for a zig-zag ending at 7241, which would become part of a correction for Z-wave in the alt count . This would also imply the last wave within the zig-zag to be a simple 5-wave downward movement.
While there can be some uncertainty with respect to calling the last wave as a simple zigzag or an ending diagonal. The ultimate outcome shouldn't change either way. At the end of this wave we should see the next major rally begin.
On Friday the markets found support at an extension level which would imply both impulse of Z-wave zigzag to be of equal amplitude, however examining the hourly chart for this last leg suggests we cannot rule out another small leg down which may imply a test of 6800 levels (which is also the 50% retracement level for rally from 4500 to 9100). The retracement from lows on Friday is amplitude wise enough for another leg down to develop towards 6800 (if it develops at all). Either way its prudent to wait for prices to close above line T1 and progressively further above T2 before calling an end to Z-wave.
Bottom line: Market is probably in last leg of Z-wave though there is still some possibility that we may try to test 6800 levels. In order to confirm that a bottom is in place, we should wait for prices to progressively close above the trend lines T1 and T2.
Now Get your friends to signup and win Free Enrollment worth $59 in Technical Analysis for Investors & Traders Online Course! Enter your email id to get your referral link!
[viralsignups_form align="center"/]