NIFTY & SENSEX Gujarat Election Results Impact on Indian Share Market
Since our last post, Nifty tried (unsuccessfully) to climb up to it's all time high and fell sharply to briefly trade below the crucial 10104-10120 zone. Chart Below: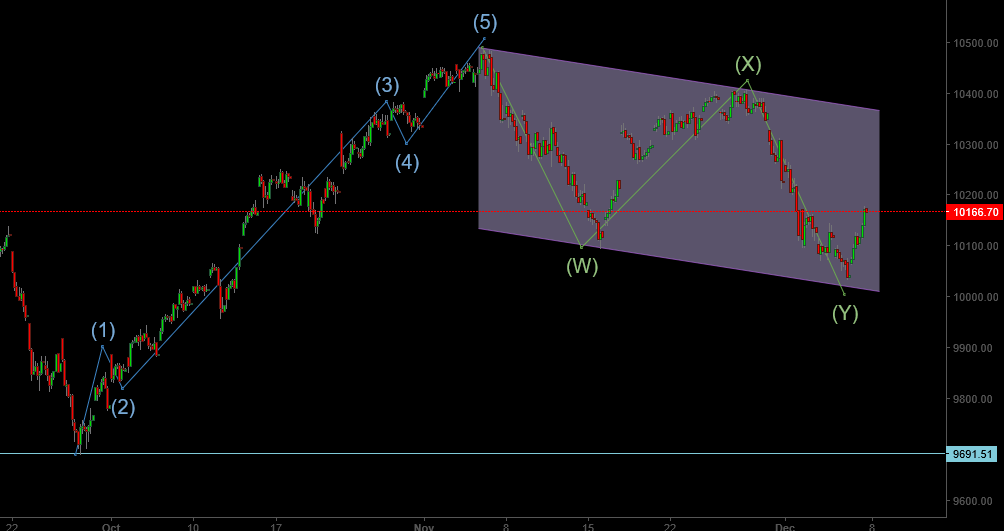 Nifty seems to have formed a W-X-Y double-zig-zag correction. Price wise this correction has already reached the 50%-61.8% retracement sweet spot.More on this price action later.
Nifty & Sensex Time Cycle/ Retracement Analysis
Dec 6 was an important date from a short term time cycle perspective as declines of this magnitude have lasted for 7-8 days from a short term time cycle perspective. Nifty Daily Chart Below: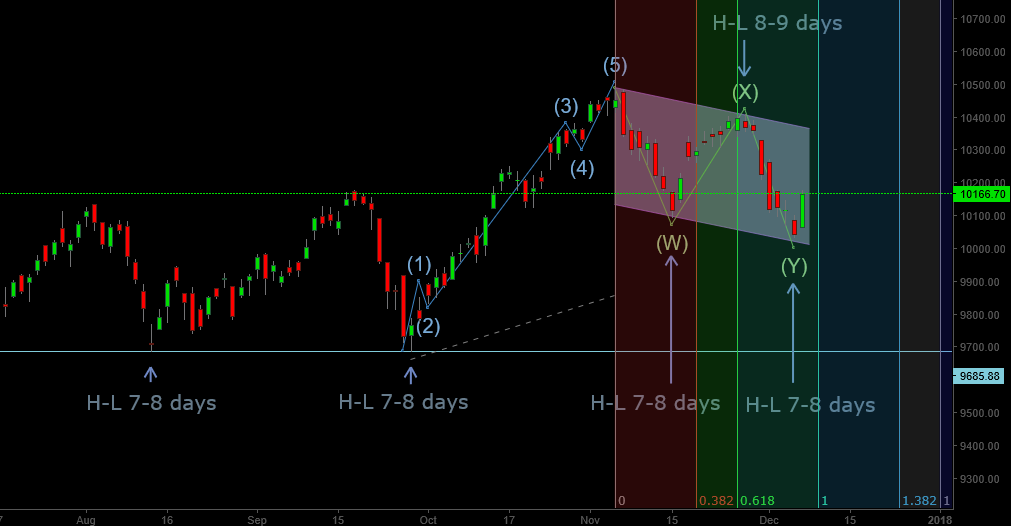 Time Cycles are usually indicative of crucial dates (or date range) around which major highs or lows may be formed. However, they don't say much about the kind or extent of price movement to be expected. Time Cycles are also more effective when applied in short term analysis rather than long term analysis. In our case today's rally in Nifty suggests a strong possibility that the recent 10035-40 low is potentially a substantial low. This becomes important because the date around which this move has happened falls between the .618-1.00 time retracement period as well.
If Nifty were to continue to evolve from a double zig-zag to a triple zig-zag correction then the move that has started today may be part of another X-wave. The last X-wave saw 9 days of up-move and the projected time expectation if we see another X-wave should be similar. This would map the X-wave up move time magnitude expectation to around December 19th (Remember December 18th is Gujarat Election Results Date!).
However, if this rally today is part of the next leg of uptrend then we may only see a temporary high around the date,  which may be followed by a mild correction that doesn't form a new low below the Y-leg low. This kind of a correction may not be of much consequence considering it is normal to witness some kind of profit booking if there is a major move after an event.
NIFTY & SENSEX PRICE ACTION ANALYSIS
It is important to note that this last fall in Nifty has so far failed to reach the price extensions around the 9923-10120 zone for double zig-zag. However these projections are seen as more of guidelines than rules.
We may have already seen the last fall as part of a W-X-Y double zig-zag correction. The Nifty low around 10038 is potentially a substantial low. This is in spite the fact that the Y-wave should have potentially reached the 9923-10120 extension zone. If Nifty doesn't immediately attempt to get to this zone, it may raise the odds that W-X-Y correction may have ended and a new uptrend may have emerged that may carry Nifty to new highs.
However the possibility that this W-X-Y double zigzag may evolve into a W-X-Y-X-Z triple zigzag may only be completely ruled out once we cross the X-wave high around 10410 (which is still quite a bit away). If Nifty is able to breach this level before Gujarat Election results, we may see a substantial up move when the results come out.
From a long term perspective a double zig-zag (or even a triple zig-zag) correction that stays above the crucial 9687 lows will only point to higher levels on Nifty. We will look at potential alternate long term bearish counts only if this crucial long term level is broken.
Conclusion
Nifty may have potentially made a substantial low around 10038. Odds are high that potential downside remains limited on Nifty specially before Gujarat Election results. If Nifty is able to cross the X-wave high of 10410, then irrespective of Gujarat Election outcome this low of 10038 should hold and markets may be able to shrug-off even a mildly adverse outcome and ultimately manage to rally higher.
Nifty Support Zones
Long Term trend support at 9687.
Medium Term support zone at 9923-10120.
Short Term support at 10100
Nifty Resistance Zones
Short Term Resistance at 10214/10265/10410