Nifty has been in a very strong uptrend that started around March of 2016. Pharma sector though has had a very different story, largely thanks to major regulatory tightening in developed markets. This has been very well covered by mainstream financial media and this coverage is getting more & more bearish & (over) confident. Some sample coverage below:
What went wrong for Sun Pharma: A tragedy in 4 parts
A look at how pharma giant Cipla has lost its mojo over the years
Steer clear! This sector will not make you money in this bull run
But as we have pointed out time and again (with examples) looking at news and relying on main stream media to allocate your money is likely to mislead you at most crucial turns. This is probably happening with Pharma sector now. The news flow is highly bearish (and confident) pointing to a sentiment extreme. We will try to analyze this sector much more objectively. Let's see what elliott wave theory is saying about this sector now. Below is the chart for Nifty Pharma Index: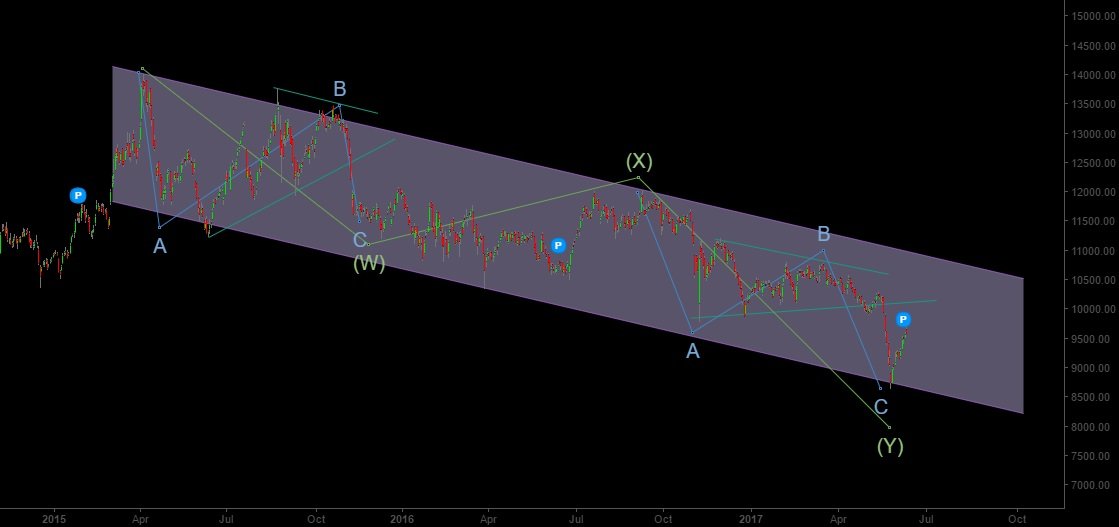 What we are seeing here is a double ziz-zag in Nifty Pharma Index that probably ended around end of May (shown as (W)-(X)-(Y)). The implication of a double (or triple) zig-zag complex correction is that once this correction ends one may expect prices to post a major rally. In this case we should be expecting Nifty Pharma to be able to rally to its all time highs (and much higher). Though we are still awaiting a full 5-wave up development to rule out the possibility of this complex correction extending into a triple zig-zag. But for a long term investor this is the time to start cherry picking in the sector.
The idea should be to hold 4-6 stocks (2-3 Big Pharma, 2-3 mid caps) as an investor & also invest in pharma focused mutual funds as part of tactical asset allocation. The investment should be made in two tranches. First tranche to be invested in the coming weeks, while the second tranche of investment being made either on confirmation of a 5-wave up move development (and crossing the upper trend line of the trend channel) or on development of a Z-wave (if we are lucky enough for this correction to be extended to becoming a triple zig-zag as that may get us even better bargain prices). Overall we believe this sector should be able to make up for its under-performance over the next couple of years and this is the best time to develop your portfolio in this sector for long term gains.
Remember that the Pharma business enjoys great business economics largely due to patents, regulatory requirements and high research costs. So while patents may be subject to attack and regulator requirements may change. Companies with large diversified portfolio of drugs are likely to thrive over the longer term. It is why such companies trade at bargain or near-bargain prices only in situations like one currently facing the Indian Pharma industry. So while more downside (and some more bad news) cannot be completely ruled out, the bigger risk is to not be in this trade and miss out on a great long term opportunity. We have already seen this playing out with Nifty Banking Index last year which was similarly surrounded (and still is) with a lot of bad news but has delivered great returns over the last year or so. We are likely going to see this story being repeated in Pharma sector.
Overall we believe that like banking sector was a great contrarian call for 2016, the Pharma sector is likely to be an equally great contrarian call for 2017.
PS: If you would like to learn value investing to analyze and objectively pick value stocks you can enroll in our latest course on the topic here: Value Investing Strategies for the Stock Market
Disclaimer: This is a comment on general developments and outlook for the Pharma sector and should not be seen as a buy/sell call on any particular security. The analyst may have positions in some of the stocks discussed in the post. You are recommended to do your own due diligence before investing in any particular stock or mutual fund. You are recommended to consult your financial advisor to check the suitability of any investment idea to your own financial situation.