On March 11 it became apparent that the Modi Wave that swept the 2014 General elections is well intact. The markets obliged by opening higher and after close to 2 years. We saw Nifty breaking above its all time highs. On the 18 March weekend Yogi Adityanath was appointed the CM of India's most populous state. Since Monday (March 20) we have seen minor fall in the stocks market. Some MSM reporting has latched on to it as a sign that the markets are not happy with Modi's choice for the CM post. Chart Below: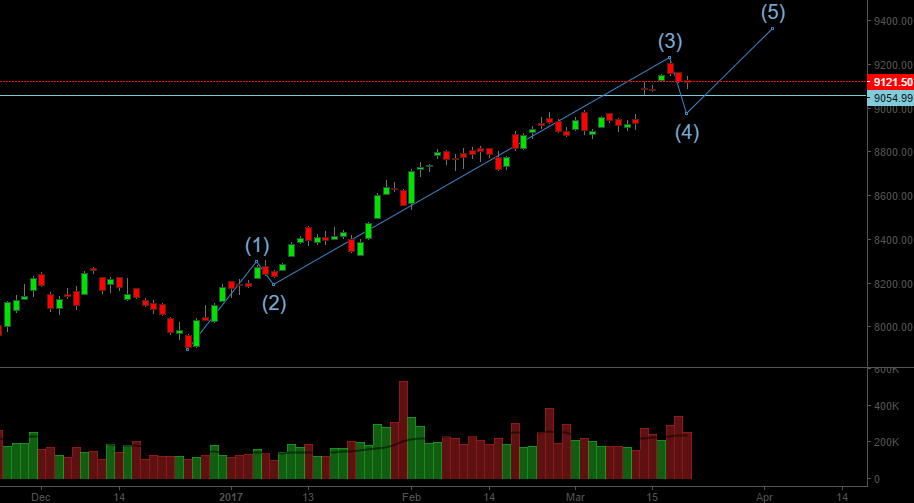 From the chart above (and the labeling) following conclusions may be drawn:
The December 2016 low of 7893 is unlikely to be revisited anytime soon.
The wave 3 of this rally is an extension. An extension may consist of 9 legs or it may develop 4 more legs and consist of 13 legs.
Wave 3 Extensions may be followed by wave 4 corrections that may retrace 23.6% of the move. This corresponds to 8960 if the wave 3 has already ended)
A deeper correction would probably need to wait until we see a wave 5 materializing leading Nifty over recent highs of 9218
But the most important conclusion is this: We have got confirmation that the next leg of the long term run in Nifty has begun. All corrections should be considered an opportunity to accumulate stocks of choice. The measured targets on the upside for the Nifty move that began from December lows are 9573/10021/11343. This should give you some sense of the kind of rally we should expect in the ongoing major medium term trend. The path though would have its ups and downs. But the break of March 2015 highs may be just the first signal of what lies ahead for the markets in the medium term.  The current short term support is at 9060, followed by 8960.