On 28th October FBI Director Comey wrote to the U.S. Congress that FBI is re-opening investigation into Clinton's use of private email server. A potentially damaging news for the presidential candidate. Stock market's fall was widely attributed to this "news", and yet thousands of miles away we had forewarned of this fall on 14th October itself. The same was re-iterated on 28th October. We further said in our last update:
"There is substantial possibility that the current fall from 8736 levels may be able to stretch further and ultimately break below the crucial 8488-8530 zone. This fall if it materializes may also expected to be subsequently reversed. If this fall below 8506 materializes we may expect it to stretch to 8368-8436 zone"
On November 4th Nifty made a low of around 8400, and we saw some buying emerge right from the center of this zone. On November 6th the news broke:
On Monday the markets propped up from our price zone. Although the move will be widely credited to this news. Chart Below: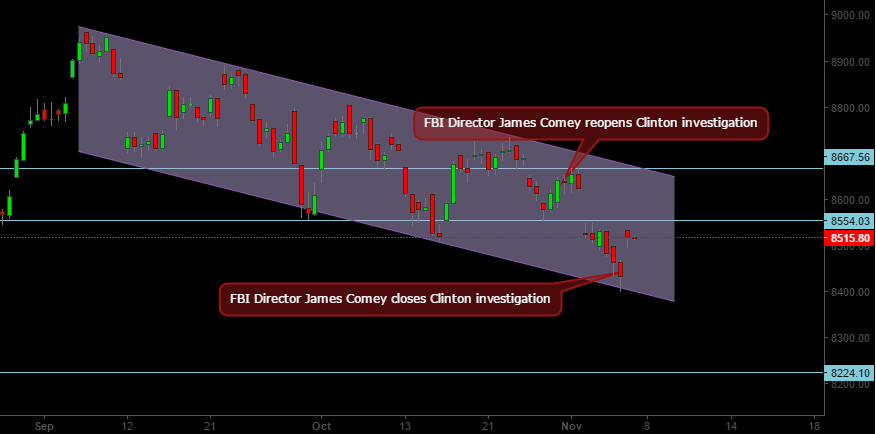 Could we have had internal access to FBI investigations? Highly Unlikely. Did we need such an access? Not if wanted to gauge the movement with a high degree of probability. The Elliott Wave Principle would have sufficed for our purposes. Now with our new Elliott Wave Analysis course, you too can derive such amazing insights and prepare your portfolio for the next big turn. This course along with our free blog should help you in expanding your understanding of the Elliott Wave Principle.
As for what lies ahead for Nifty, here are our comments:
Nifty has taken support at an important level. The correction in Nifty since September has also so far contained itself in a trend channel. If this is a double zig zag we can expect the low of 8400 to hold. The momentum we are seeing so far is positive, but it has to be able to cross the crucial 8550 level followed by 8667 level. We feel that the odds are strong that the current move would be able to cross these levels, followed by the X-wave high of 8807 level (which would ultimately eliminate the odds that this double zig zag correction turns into a triple zigzag). This move if it materializes would lead to a break of the trend channel on the upside, which would further confirm that the next leg of the uptrend might has resumed.