Our last Nifty Update mentioned:
"8488-8530 may be able to provide crucial support to the markets if another leg of the fall materializes"
Nifty made a low of 8506 around 17-October and posted a rally that carried it to 8736 levels. We also indicated that our top most scenario suggested we won't be able to cross the 8806 level before we see another fall. There is substantial possibility that the current fall from 8736 levels may be able to stretch further and ultimately break below the crucial 8488-8530 zone. This fall if it materializes may also expected to be subsequently reversed. If this fall below 8506 materializes we may expect it to stretch to 8368-8436 zone. There is a strong probability that we might see a rally from this zone. The price action of the subsequent rally would need to be analyzed to see if we may expect a sustainable rally or further fall. Chart Below: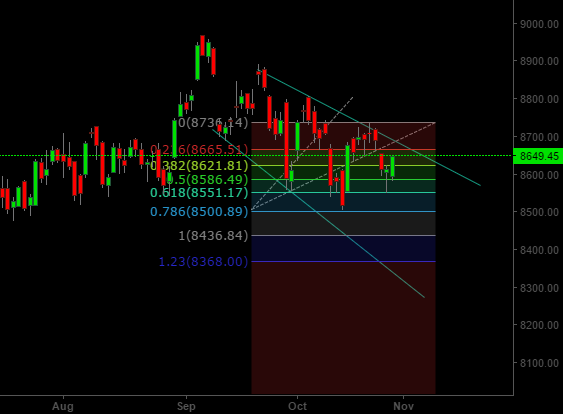 In the short run 8577-8582 is an important support zone. A break of this zone might result in the price action described above. 8736 is an important resistance. The break of this level will considerably increase the odds that the 8806 level may be broken to the upside. The price action over the past few weeks has been choppy. Also the price move in stocks continues to be unreliable. Such price action is primarily associated with corrective structures but also materializes in leading diagonal pattern (which is a comparatively rare impulse wave structure). The price action over the next few weeks would hopefully give us enough clues to prepare for the next major rally/ fall. Till then it would be best to be highly selective in stock picking and choose stocks from a long term investing perspective only.