On Thursday Nifty created another gap thanks to a gap up opening. This gap ended up being closed as well by Friday. This gap creation at open and subsequent close has been the prime characteristic of the market since a couple of weeks. This has also meant that the market has not been too conducive for intraday trading. However, so far the price action since the the low of 8689 created on 14th September has been contained in a trend channel. Nifty 30-min. Chart Below: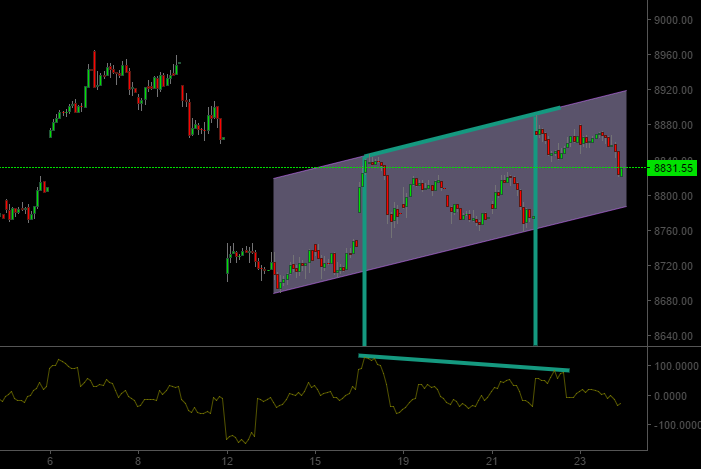 The high made on Thursday was very close to this trend channel. While the high made on 22nd exceeded the one on 16th September, the momentum indicator wasn't able to make a new high, thus resulting in a divergence. This divergence on a short term chart further increases the odds that we might see another fall of same magnitude as we witnessed between September 7-14.
The recent highs have also appeared on the back of increasing social and geo-political unrest in our region. The rising tensions between India and Pakistan in aftermath of Uri attacks. These are not typical developments in strong bull markets which are characterized by increased cooperation, peace and bonhomie between otherwise adversaries. Considering the aggressive stance taken by the government and the persistence of cross border terrorism, it is difficult to see how the situation would deescalate quickly. This adds to odds that the market may not stay around the lofty highs for very long and we may see a deeper fall. Though this can never be our only reason to go extremely bearish on the stock market because dynamics can change quickly (as reflected in a markedly subdued speech by Prime Minister Modi on Saturday evening). But given these developments in backdrop of market trading near all time highs, with a high degree of optimism in the markets, one should err to the side of caution.
The price action though may be more clear than the ever changing geo-political dynamics. First we should be observing this trend channel closely to see the next major direction for Nifty. On the upside the 8880-8910 zone is an important resistance zone. The important support levels for Nifty are at 8820/8751/ 8689. None of which should hold for too long if we don't immediately try to break above the upper trend line of the trend channel. The fall if it ensues should extend to the 8570-8600 zone which is also close to an important 38.2% retracement level we have repeatedly discussed. Ideally if we are seeing just a relatively minor correction the depth of the correction should extend up to this zone. Any deeper fall could be a cause of worry and could be an early indicator of an extended fall.