Nifty broke below the crucial 8720 level and made a low of 8688. Since then Nifty has rallied to 8846 before reversing sharply. In this process it created two Gaps as shown in the chart below: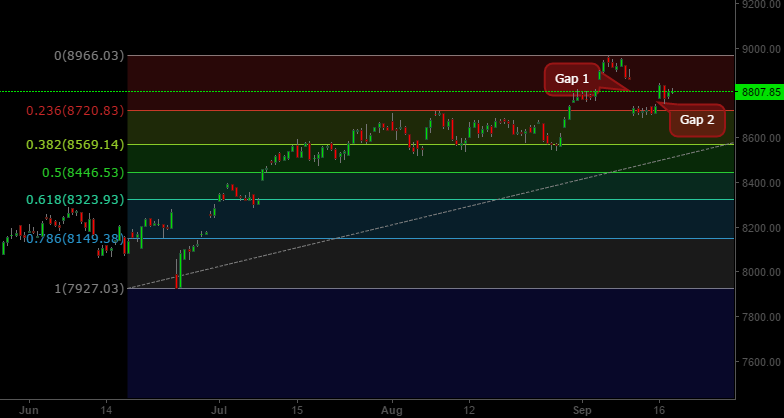 The rally on Friday attempted to fill the Gap 1 but failed, instead ending up filling the Gap 2 by the end of the day. Currently the price action is unclear and this is quite normal because markets are still in the process of forming a definitive pattern. In light of what we have witnessed in the last few days it would be surprising if the markets are able to take out the recent highs around 8956 soon. In fact would be prudent to wait for this correction to stretch to the crucial 38.2 retracement level around 8570. We believe there is still a high chance that we may see movement towards the 8570-8600 zone.
For now the short term crucial support is around 8688, a break of which should signal further weakness.
Reminder: We are nearing the end of our Intraday Cash Stock Tips Giveaway contest. Do remember to boost your chances by maximizing your entries using all the options below: