Here is a snapshot of Nifty move in last few days:
August 3: Closes Down by 79 points
August 4: Closes Flat (compared to previous close)
August 5: Closes Up over 130 points
August 8: Closes Up by 28 points
August 9: Closes Down by 33 points
August 10: Closes Down by 100 points
August 11: Closes Flat
August 12: Closes Up by 80 points
August 16: Closes Down by 30 points
While this may seem like a lot of movement, a cursory look at the chart would tell you that the market is stuck in a range. The momentum has been lacking and the market has failed to either move below the crucial 8478 level nor has it managed to accelerate to the upside. Currently the market has been trading between two trend lines T1 & T2 as as shown in the chart below: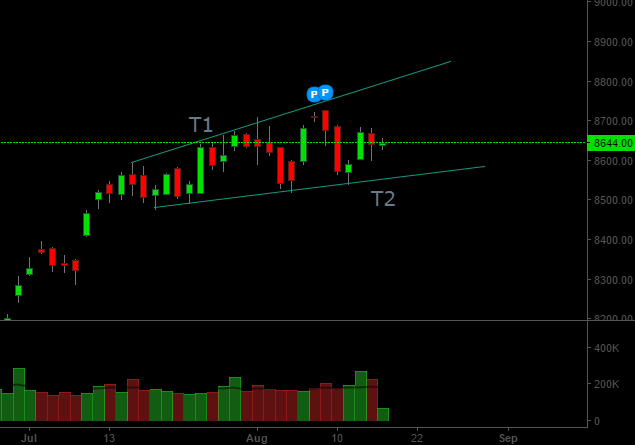 We think it is likely that Nifty may yet again try to test the T1 trend line and in the process may be brush close to 8800 level. This T1 trend line should prove to be a make or break resistance line with odds being that the next attempt to break this trend line may also fail. Short term crucial support is at 8540 followed by the 8478 levels.