Nifty broke through the key 8655 level, yet has failed to sustain above the level for too long. Also another attempt to move above the T1 trend line failed. Chart Below: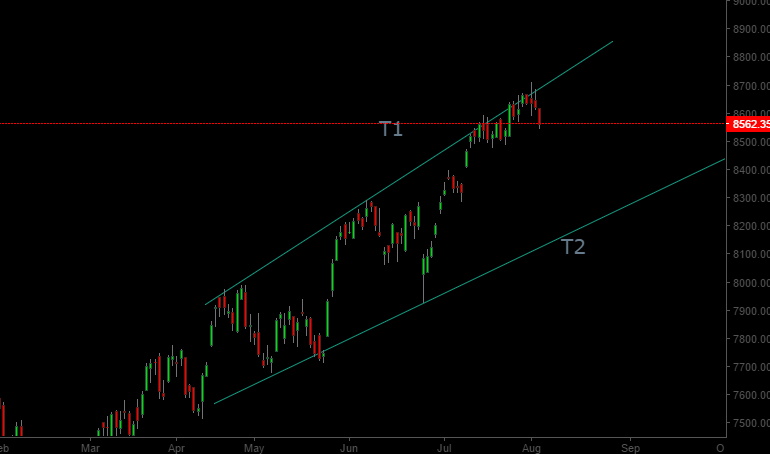 The 8530-8535 levels in Nifty is key. If Nifty manages to stay over these levels, there is every possibility that we may see another attempt to sustain above the trend line T1.
A failure to do so could open up a move towards 8478 and probably lower towards 8443. Though it would be too early to comment on the price structure of the down move if it materializes, but in all probability such a down move would have impulse wave characteristic implying possibility of deeper correction after a pause.
In our last post we mentioned the precarious position of dollar index and how a break of 96.51 would result in a test of 95.34. This materialized quite rapidly and has resulted in a deeper fall. There is a strong possibility that this fall may be part of an A-B-C Flat correction. Chart below: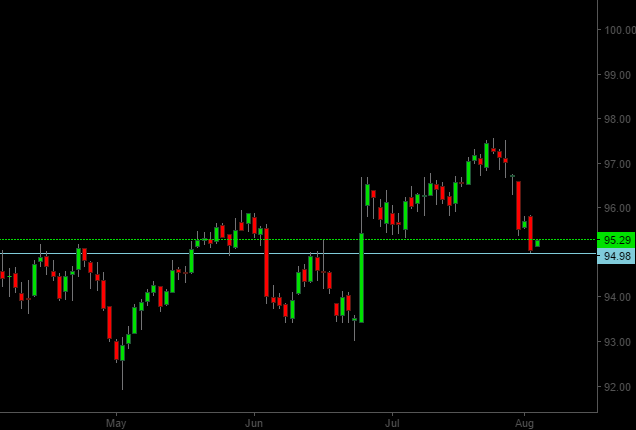 The key support for dollar index happened to be 95 and not surprisingly it has found some kind of support in this region.In case of dollar index the most reliable impulse moves happen in the US session (evening IST), while it is not uncommon to see corrections to materialize in the Asian or European session. This is a general observation that works often for currencies and commodities, except during times of key events/ technical reversals.
If the dollar index manages to survive above the key 95 levels today (and hopefully breaks above the yesterday's high of 95.85), we are very likely to see a major rally in the index towards the recent high of 97.50 and above. Such a scenario if it materializes may bring in more pain for most equity markets, specially considering the price structure of US equities (specially Dow Jones), which points to possibility of deeper correction. Indian markets should not be considered to be immune to such developments. The next likely move in dollar index is likely to have strong implications for Indian equities as well (specially the metal stocks) and should be observed closely.