Nifty has seen a sharp reversal by the end of the day. The high made by Nifty was around 8645, eerily close to the crucial 8655 level we have mentioned quite often. Chart Below: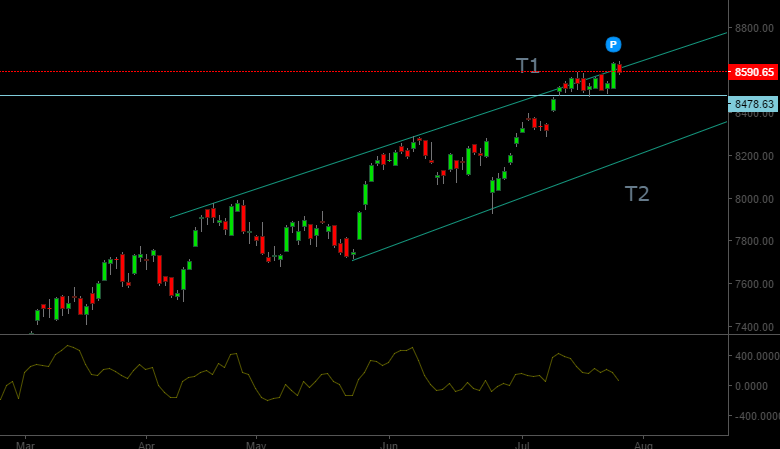 The exuberance created by break of 8587 level has met a similarly sharp response to the downside in the last few hours of the trading session. While the downside movement in the index was not as sharp, some stocks have seen a sharp pump and dump action. Also this has occurred close to the key 8655 level we have been mentioning time and again. It has also translated into a failed attempt to close and sustain above the T1 trendline.
All this only reinforces the importance of 8655 level. If this is a corrective fall then we may find an immediate attempt to take out 8655. The price structure of many stocks supports this possibility strongly. On the the downside the level of 8478 is a key support now. Ideally a break of 8655 should sustain to the 8840-8890 region without breaking the recent key support. Break of 8478 would call for reexamination of price developments.
The precarious position in which equity market finds itself is also reflected in Dollar index. While stock markets have managed a stunning rally since Brexit vote. All this while the dollar index has silently managed to break above its 24-June Brexit high. Chart Below: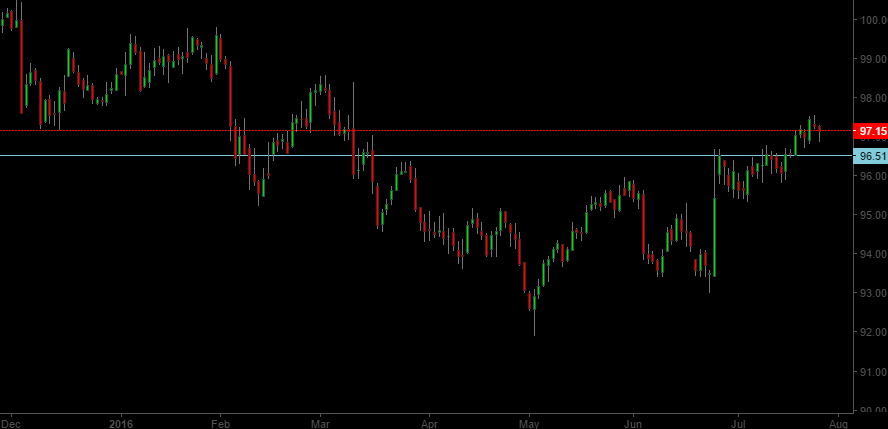 Dollar index briefly tried to test the Brexit vote high but recovered from well above. Currently the price structure is such that either the dollar index rally actually manages to gather steam and head much higher or it may give way for a retest of 95.34. The short term support that shouldn't be violated to avoid this outcome is at 96.51.