Since our last update, Nifty has been rallying towards our measured target of 8357-8410. Post RBI policy Nifty encountered resistance around 8300 levels. While the momentum has not been categorically strong. The fact remains that the corrections have been mild compared to what we witnessed in May. Below is the 30-min chart for Nifty: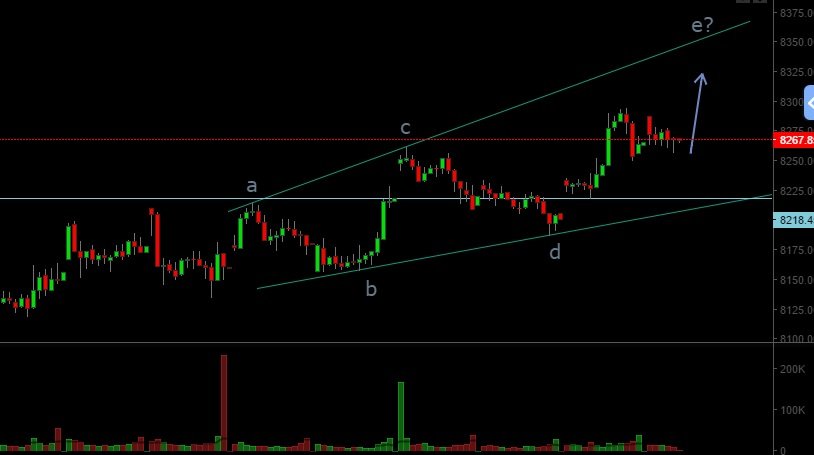 The last few sessions have seen an up move, but they have not been characteristically impulse moves. Impulse move are fast moves and same prices don't get traded over and over again. This raises odds that we may be witnessing some other motive pattern. In this case it seems likely we may be seeing an expanding triangle in play.
The expanding triangle is a 5-wave pattern a-b-c-d-e. More specifically we may be in the e leg of the pattern. There is a good chance that markets may try to test the a-c trend line, which may also entail prices actually managing to reach our target of 8357-8410. Only a substantial move above these levels would invalidate this pattern. Although considering the bullish momentum we have witnessed from March lows, one should avoid top picking, but it is still very likely that once the pattern completes we may see a substantial retracement in the markets.
Short term support of the market sits at 8218 level. A break of this level may raise chances that the expanding triangle pattern is already complete and we may immediately attempt a test of 8130.