Nifty/ Sensex have managed to break the April highs. In the process it has vindicated our stand on the post Mauritius treaty change price action being a correction. In light of this it is time to look at some measured targets for this current leg of the rally.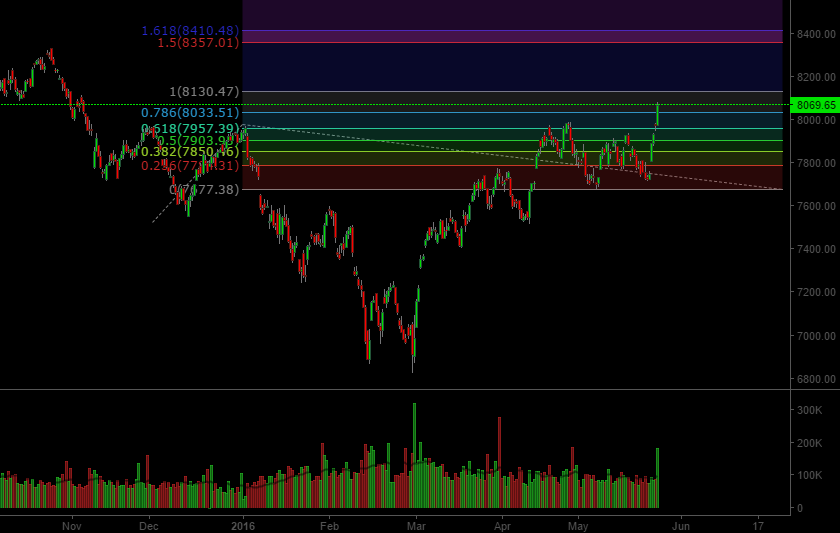 As per Elliott wave theory we have probably entered the wave iii of 3. Such waves are expected to be strong and corrections (even sharp ones) are expected to be reversed abruptly, thus defining the bullish nature of the market.
In the current scenario, if we have got our wave count correct, Nifty should be able to meet the measured targets of 8357-8410 (27396-27581 for Sensex) at the very least before developing any major correction (like the one we saw very recently from April end or the one we witnessed in the first week of April). In fact this is the bare minimum move we should expect from the markets at this juncture before developing any major correction. Also it is not uncommon for markets to develop extended rallies for waves of this degree which implies that surprises should be on the upside and the targets should be exceeded if extensions develop.
Conclusion: Nifty / Sensex may be in for major gains over the next few weeks and trend should be considered to be decisively up. Any corrections may be reversed abruptly and the next major correction should wait before Nifty achieves our measured targets of 8357-8410. One can also expect further surprises to the upside and one should avoid picking tops.