With respect to Nifty, we have maintained that what we are witnessing in the market is largely a correction that should ultimately resolve to the upside. This assumption will continue to be valid unless we see a major downtrend 5-wave impulse move. There has been no evidence towards this so far.
However the markets continue to be sluggish and largely range bound. There may be substantial movement on individual days, but when looked for a period of say 1 month (and more appropriately the last 2 weeks) the markets have largely been range bound. This nature of market again points to a sluggish corrective development, as impulse moves are fast moving.
Below is the 60-min chart for Nifty: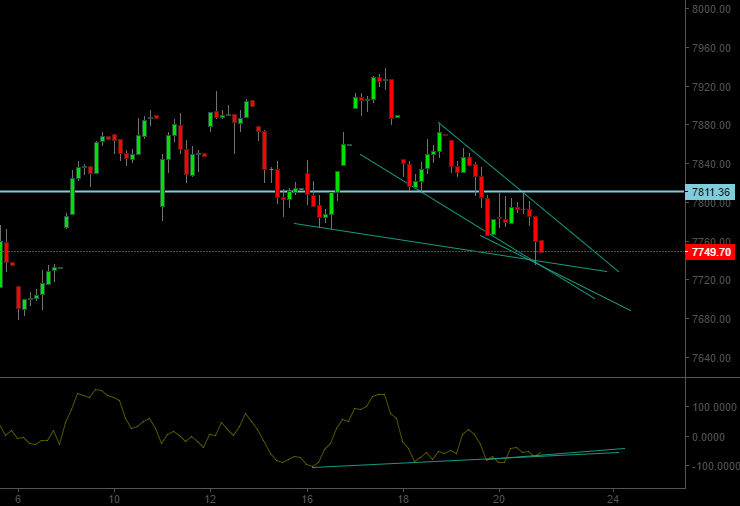 In the last session we saw Nifty closing below the lower end of our prescribed range of 7781-7892. So one may be inclined to believe that the markets may head lower. However we are also seeing divergence between prices & momentum indicator at multiple levels, which should alert us to the possibility that we may actually witness a U-turn. We always maintain that prices are more important than any second order derived indicator. In that sense we should wait for prices to confirm a possible up-move. We believe a break of the 7812 level would trigger a re-test of upper end of our range (7892) and very likely the 7939 level as well.
Another important relation of note has been in play post Mauritius Treaty Change Price action. In the chart below we have labeled the major highs & lows post the Mauritius as A,B,C …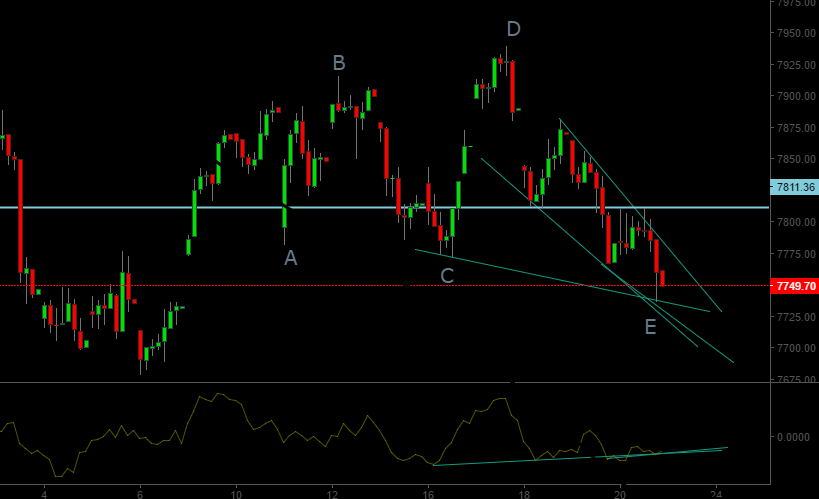 Interestingly the price relationship between each leg and the previous leg has tended towards 1.23. So for example the B-leg is approximately 1.23 times the A-leg. So is the relationship between D-leg and C-leg. At any rate each leg has been between 1-1.23 times the preceding leg. The low for the leg marked as E also implies E-leg being close to 1.23 times the D-leg. When using these relationships for entry though its again very important for prices to confirm that some kind of bottom is in place by breaking an important support or resistance. In this context a break of 7812 level would confirm that an important low might be in place.