I hope today's rally didn't caught you by surprise. As we elaborated in our last post, the 7828-7850 was a crucial zone for Nifty. The low for this correction turned out to be 7823, and the markets turned up without a classic bottoming out. This may become the norm in the coming days as this rally gathers steam. The character of the rally was such that it suits a wave (iii).
The markets have closed just points away from the recent high of 7978. We won't be surprised if we manage a gap up opening, but irrespective of it materializing the fact remains that we have a probable bottom at place, which means we can provide tentative targets for the next rally. It is very common for wave (iii) to be 1.618 times the magnitude of wave (i). Based on this the target for wave (iii) would be 8570 for Nifty (28100 for Sensex). But, we won't be surprised if market surpasses these targets, considering the degree of this wave in which we are likely operating.
The nature of the move should be fast, and the kind of turn around we saw from today's low may happen often during the rally. Hence staying or attempting short positions should be done with extreme caution throughout this rally. But, from a long term investing purposes, a buy & hold strategy would give great results. Chart below: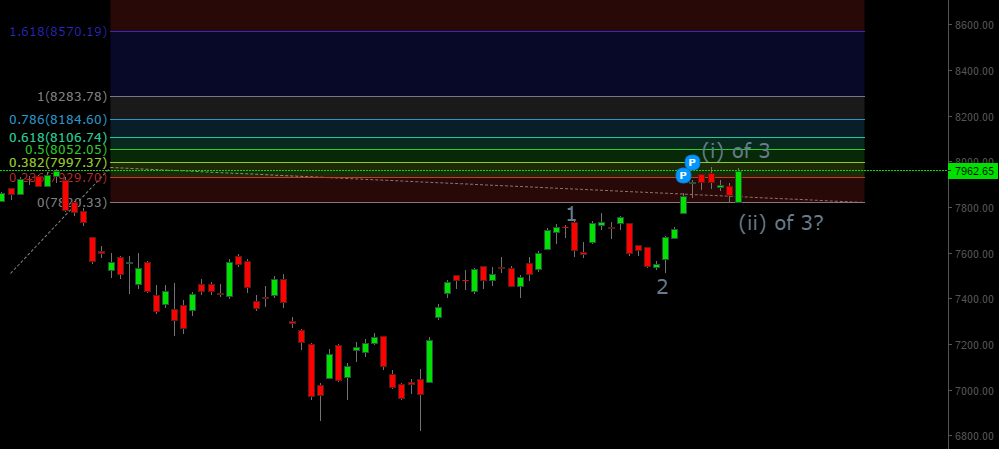 PS: If you like our work, do remember to share our article for the benefit of your friends.