Nifty & Sensex have managed a splendid rally in the last 2 months. In course of this they have achieved many of our major targets. Our 2nd March post: Nifty breaks out providing confirmation alerted readers to a pattern based target of 7900. We also alerted on a gap measuring target of 7700-7750 that has since been left behind. Our short term alert of fall to 7600 from these levels also played out well. Now that the markets have rallied back and closed above 7850 levels they have issued a major market signal. Chart below: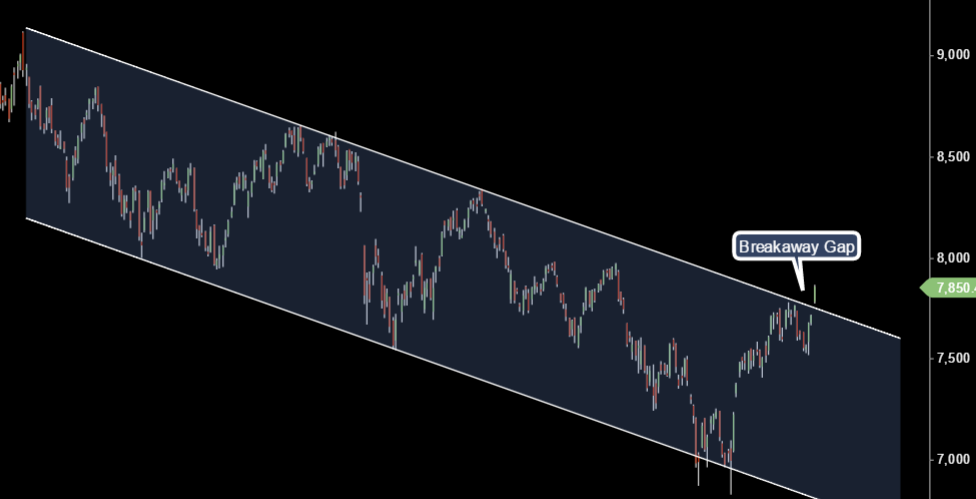 If you are our regular reader you would remember this trend channel which has been in play since the correction started in March of 2015. The prices broke away from the trend channel by the way of a breakaway gap up in the last session & closed over 7850 on Nifty. (If you would remember our prediction of 7900 on Nifty also started by the way of a breakaway gap at the end of the ending diagonal pattern). This gap immediately places a target of 7972 in the short term, but this is not why we are so excited.
In our last post we mentioned how a break of this trend channel would clearly signal start of wave (3) as per elliott wave theory. We said and we quote:
"However given our analysis, if prices were to try and retest this trend channel again, we should expect them to be able to break the trend channel & rally faster. Any such move would definitely confirm a wave 3 in action. As per elliott wave theory wave 3s are wonders to behold and most of the returns are accumulated very fast in this leg, while most price corrections in this wave are short lived. The break of the trend channel should be a clear signal that we are in a wave 3 rally."
The markets have provided us a major signal. Hence we should expect the fast moving rally to continue in the coming days. In the next few months our eyes should be set on reconquering the peak of 9000 (29000+ levels on Sensex). If our wave count is correct this rally should have sufficient firepower to take prices to these levels. Given our analysis a major bull market rally seems to be ahead for us folks!