Our December 2015 report on Gold: Can Gold Shine in 2016? gave a bold bullish call on Gold in the back drop of extremely bearish sentiment on the precious metal. In the report we clearly mentioned that our 2016 target for Gold is $1343.
In less than 3 months the prices hit a high of $1280. But since then prices have substantially corrected and Gold is now trading around $1217. Though this hardly affects our analysis. In fact the price developments since our report have only confirmed our analysis.
As the chart shows, Gold prices have rallied in a 5-wave upward impulsive move since making a low of $1046. This confirms the overall bullish trend in prices. Once the trend completes a 5-wave move it enters an A-B-C correction, and the recent fall in prices should be seen in this context.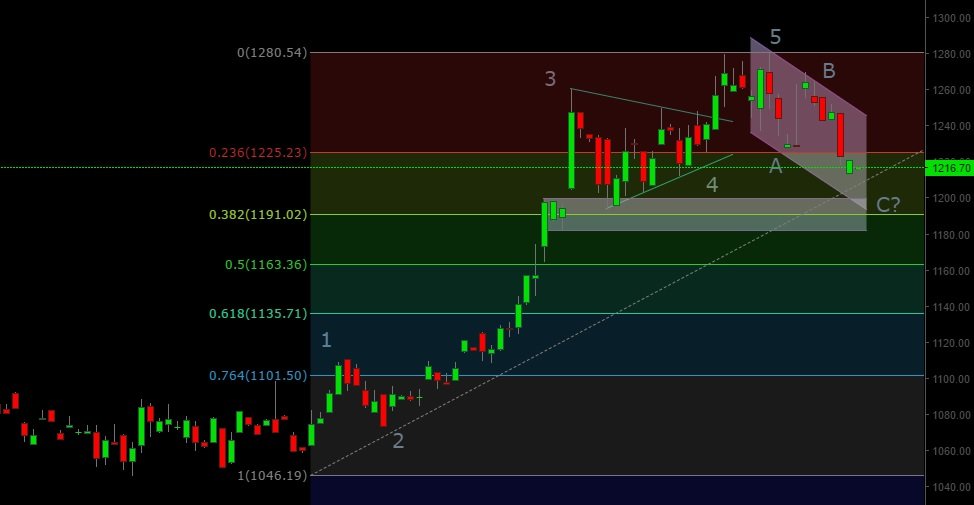 Currently it is very likely we are in the C-wave of the correction and there is still a chance that prices may fall further towards $1204. Also it is normal for prices to travel to the region of 4th wave of one lesser degree. In this case this region is $1182-$1201. But, this is more of a guideline than a rule. The 38.2% retracement level of $1191 falls right in the middle of this range.
That said, once the C-wave completes we should be in for another major rally. The ensuing rally should easily carry the prices to our initial 2016 target of $1343. However it is very likely that the next rally will have the firepower to be at least of the same magnitude as the current rally from $1040 to $1280. Hence we think the prices will most likely have the potential to rally further than $1343, and accordingly we are revising our 2016 targets to $1410-$1430.
———————–
Now you can get an analysis on any stock of your choice by placing an order here. There is a small fee charged for this service.