For the last few days, Nifty has been trading in a congestion zone of 100 points. The last correction of this magnitude in Nifty played out intraday on 29-Feb. This was a wave 2 zig-zag correction as shown in the chart below. Current congestion is likely part of wave 4 correction which should have played out as flat or triangle correction as per rule of altercation under Elliott wave theory. Once the correction is completed we may see a wave 5 upward movement commence.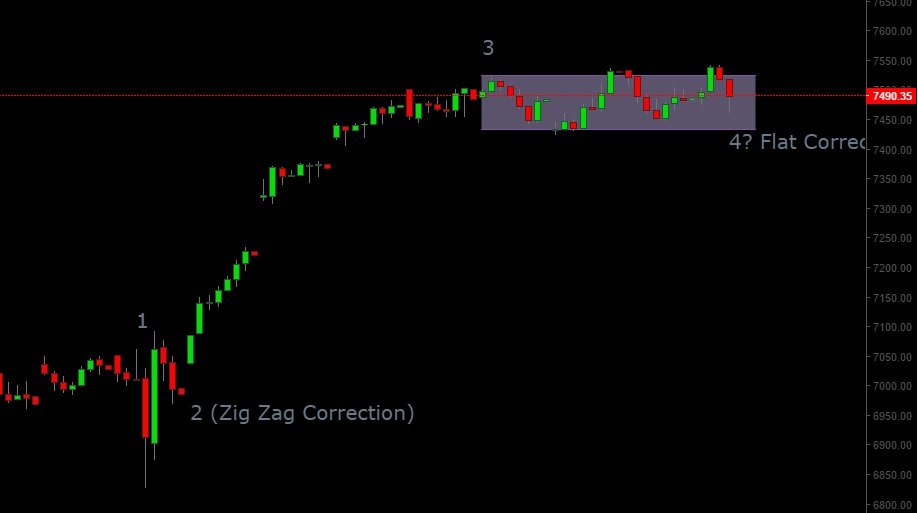 On 2nd March Nifty made a gap up opening which is very normal for a wave 3 movement. Based on gap measuring technique the upside short term target for Nifty would be placed around 7700-7750 levels. Also it is not often for wave 5 to be of similar magnitude to wave 1, based on this since the wave 1 was of 266 points we can expect a similar rally for Nifty in the 5th leg. This would put a target of 7700-7750 too. Hence, a break of 7541 levels can be used to initiate a long position to target this zone. We can anticipate a deeper correction to develop once we reach this zone. However we should remember that the major long term trend may have turned up and thus markets can easily exceed these targets too.
If a substantial correction of few hundred points develops from 7700-7750 levels it should be treated as an opportunity to accumulate stocks. Our long term picture remains that we have possibly ended the medium term correction that has been in play since March 2015. Hence the correction if it ensues should easily manage to stay over the lows we have made in March of this month. Its ability to do so would confirm that the worst is behind us already and we should brace up for a very strong move.
Also it is important to remember that the markets may have already entered wave 3 of wave 3 of a multi-year bull market. This long term wave should yield spectacular returns over the next few years and in quick time. This is idiosyncratic to wave 3 in general, and hence our tendency should be to accumulate on each major correction in order to reap maximum benefit.