Nifty has seen a volatile whipsaw budget action, that has essentially brought the market back to where it started after posting a new low. Price are back into the corrective channel that has been play since March of 2015.It has also closed and managed to stay above the T1 line in spite of making a new low and now trades close to T2 line. This only reinforces the important of this channel and our trend lines and how difficult it has been for markets to sustain below this level.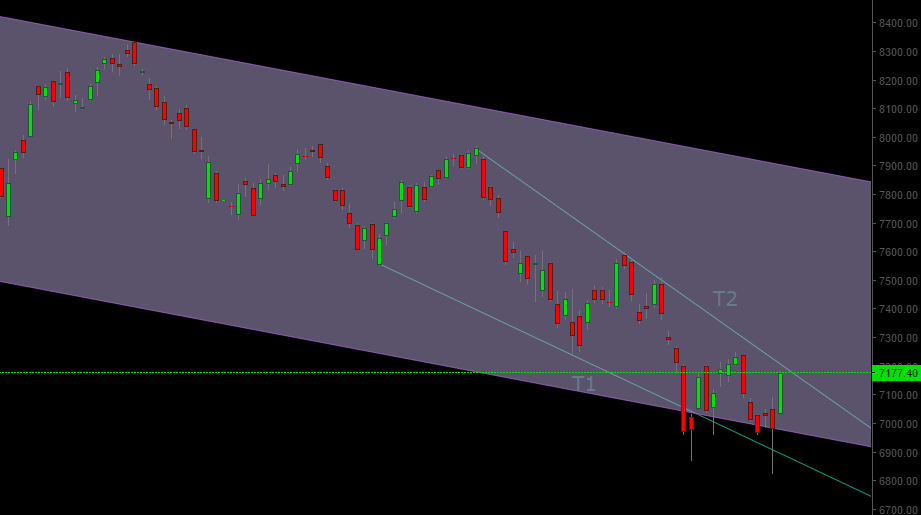 The long term picture remains that this entire fall from March 2015 highs is a corrective one as we await strong positive developments on the upside.
On the short term outlook, it is very important that this bounce from budget lows does not fizzle out again around 7241 levels and prices are able to sustain to 7390-7410 levels. As such developments would start shifting odds to development of a new trend. Of course the new trend would need to go through and survive an acid test for us to be able to call an end to this correction, and that will take its own sweet time.
The budget fiscal discipline stance has started a chatter for rate cut on or before the next RBI meeting. The 10 year, 1 year, 6-month INR yields started pricing in the same yesterday itself even before the budget announcement. The sharp movement & technical outlook indicates that a 50 bps rate cut is a distinct possibility. Negative interest rate environment across the developed world (Japan, Swiss, & Euro Zone) & latest easing measures from China does give Rajan the room to act and while fundamentally this may be supportive to the stock market, we should still give more importance to price action to determine if the worst is over for the market.