Much like the parliament, markets have seen a lot of drama without much progress. Nifty reversed from the key level of 7241 outlined in our last report. But significantly enough managed to stay above the low of 6960, thus still keeping the hopes for bulls alive. This is even more significant because Nifty has now tested the T1 line twice, and managed to put a positive close each time on daily and weekly basis.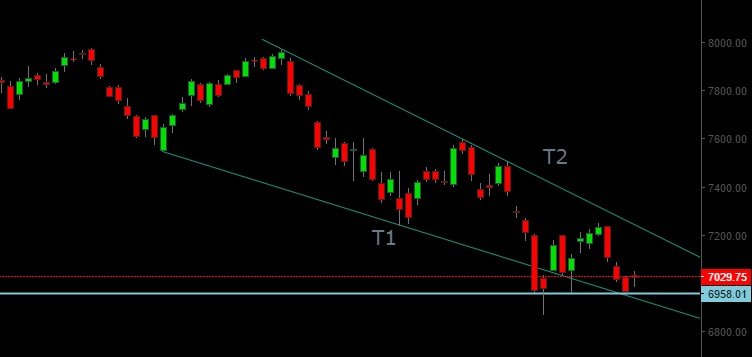 While this is not enough for us to take a call on the future course of the market it does give us some important levels to follow. On the downside now the 6960 level becomes extra significant because it has already been tested twice. Also a break of this level might not just mean a test of lows of 6869, but a much bigger fall below 6869.
On the upside 7241 proved to be significant as the markets failed to close above this level and resulted in a substantial fall. If the markets approached this level again, it is very likely they will be able to sustain above this level. This is so because an approach of this level would mean a break of T2 line we have been talking about since last couple of weeks. It would also provide a confirmation for a probable low in place for the markets.
In times like this it would be prudent to wait for markets to make their move either way before jumping the gun and these levels may prove to be very significant in the coming week.