In our last post we mentioned:
"It would be wise to not consider the current rally to be the beginning of a sustainable bull market unless we see some concrete developments above the trend channel. There is every possibility we may still see a sharp reversal and fall in the stock market after the rally since the Fed-rate hike has run its course."
The markets couldn't even reach our conservative target zone of 8035 and reversed from some 45-50 points below it. The abruptness of the fall must have caught people off-guard. But, this fall is likely the beginning of a move towards 7500 levels. Markets may post a short rally as of this morning but you should avoid building any major long positions as the next turn might be uglier than the previous one. If this fall materializes further (as we are expecting it to), it would be part of last leg down in the correction we have seen from march of 2015, which has been largely contained in the medium trend channel shown below: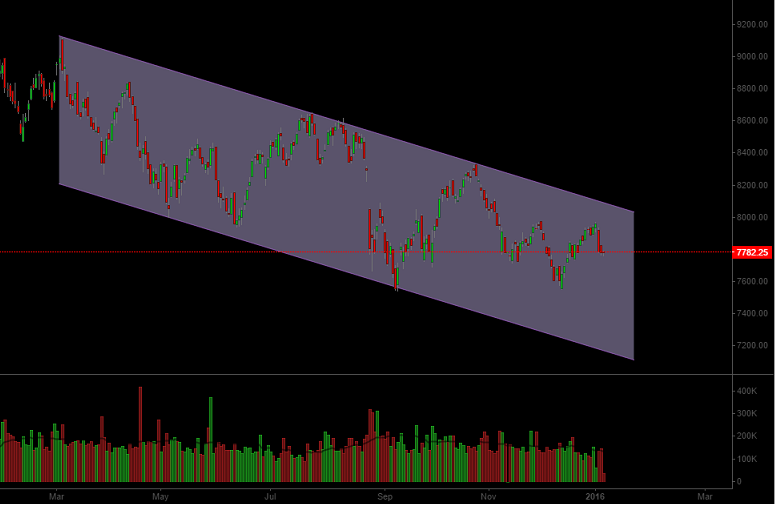 The fall which has happened in sync with the chinese market has seen geo-political tension built around the world:
Iran – Saudi Arabia stand off
Pathankot terror attack in India building tensions with Pakistan
North Korea Nuclear Tests
Specific to India the Pathankot terror attack has created a situation where surprise retaliations cannot be ruled out, such an event if it materializes may create a brief panic like situation in the market. For long term investors any such panics could be an opportunity to grab stocks at cheaper prices for long term profits. Triggers aside, in any case this large leg of the downfall towards (and possibly below) 7500 should be seen in this light.
On the downside 7733 level on Nifty is a key level and short positions can be initiated on break of 7733 for quick profits.