In this video we answer the question Is it the right time to invest in equity mutual funds?
Welcome to our special report on Equity linked savings scheme or ELSS as it is popularly known. As you might be aware ELSS is a popular investment product because you can get tax deduction under section 80C for your investment amounts up to rs. 1.5 lakh. Also the lock-in period for this investment is only 3 years as opposed to 5 years for other investments like fixed deposits.
Very often we are asked by many people when is the right time to make my investment to save my taxes? If you are like most people you probably wait until the end of the financial year to make your investment.
We are doing this special report because we are seeing some very important developments in equity markets which are going to present a special opportunity very soon. If you act with courage over the next few days you would be able to substantially enhance your returns on your mutual fund investments.
On 10th of december we released our research report on indian markets titled Sensex & Nifty: Brace up for something spectacular! This report contained a chart from our 7th december report which showed a trend channel that has been in work right from the april 2015 highs of 9100 on nifty. As you can see here the price action since the highs of 9100 on nifty has been contained in the trend channel.
We have also repeatedly referred to an important support zone which we like to call the Modi era support zone. This support zone was created on the may 2014 election result day. It has so far been able to support the markets as markets recently posted a substantial rally from the support range highs, before collapsing back to where we are today. We have repeatedly mentioned how we do not expect the upper end of this range to hold on for long and we expect the prices to eventually break through this support level. At the same time we have said that we don't expect the prices to break below the lower end of this support range.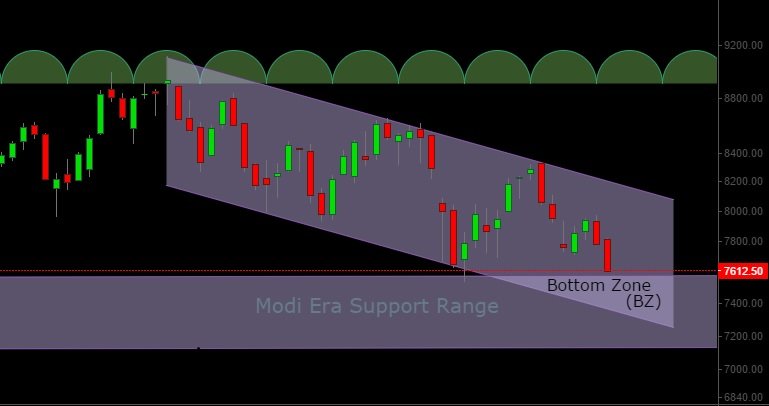 On december 10 we combined these two insights along with time cycle analysis which is pointing us to something spectacular that is about to unfold in sensex and nifty. Our trend channel and the modi era support range are meeting to form an important zone which might well turn out to be an important bottom zone for the weeks of correction we have witnessed in Nifty. The bottom zone is shown as the triangular shaded region, marked as BZ. Time cycles also pointing to an important turning point ahead. We are using 7-week cycle which has been correct in predicting important intermediate turning point in prices 11 out of 14 times for this corrective trend channel. This week is going to be the peak for this time cycle and hence could turn out to be an important juncture for the market time-wise.
Do remember that the U.S Fed policy meet is also scheduled next week for Dec 15-16 which could provide an important trigger for formation of a panic bottom in the markets.
And hence we urge you to make your investments in equity linked savings scheme if you see a panic sell-off around this time. At any rate we believe the markets should bottom out between 14 december to 4th of january, when this cycle peaks. So it would be ideal for you to take care of your invetments in ELSS within this time so that you can reap enhanced returns on your investment. If your PF contributions, and other investments are greater than 1.5 lakhs which would mean you won't be able to take futher deductions under section 80C. You could look at other equity oriented mutual funds as they may be able to provide great returns over next 1 year if you invest now.
We would also like to inform you that our special report on gold titled Can gold shine in 2016? is out now. We are seeing some very interesting developments in gold prices which could have lasting effect through 2016. Do log on to indianinsight.com to check out our this report!