Can Gold shine in 2016?
In order to answer this question we are first going to look at what is prevalent in the news media recently:
Dec 10: Dow Jones Business News says Prices edge lower as bearish sentiment prevails
Dec 10: The week points out: Bets mount that price will fall to $1,000
Dec 11: Business standard carries an article which says Gold set for  7th weekly drop in 8 as US rate rise bet mounts
There is a decidedly bearish sentiment prevalent in the mainstream media, but what we are seeing in the charts is a totally different story. The chart below shows our most likely elliott wave count: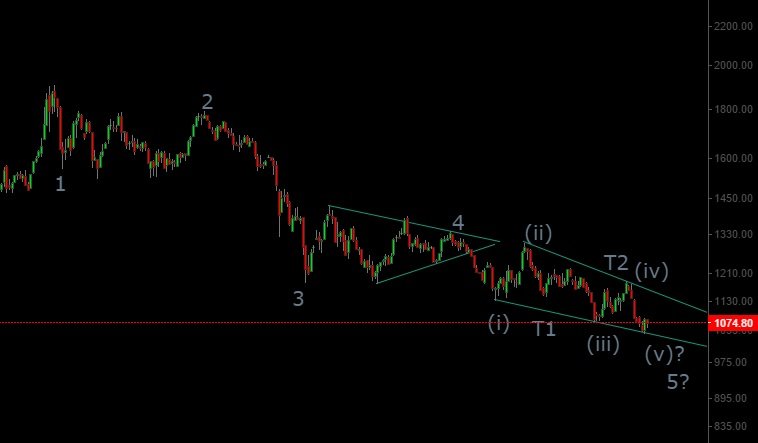 As per our wave count we see a 5-wave down movement from its Aug'11 highs of $1911. The last of these 5 waves is developing into a typical ending diagonal pattern. An ending diagonal triangle, or wedge as many call it, is a narrowing price move composed of two converging trend lines highlighting a wave 5 pattern. The two converging trend lines (T1 and T2) provide important guidance with respect to confirming this pattern. Sometimes prices do fall below T1 in a final burst of impulsive move, before quickly reversing back. We saw this recently on the dollar index, except that the ending diagonal was part of an upward trending impulsive move.The pattern is confirmed once the prices break above T2, and hence a conservative low risk entry point is on break of T2. There has been a similar throwback in Gold, and more aggressive traders might consider entering long term positions in Gold with a stop below the recent lows.
Another key benefit of the ending diagonal triangle is that provides a ready take profit target once the pattern is confirmed. In general the start of wave (i) is a reasonable price target for the pattern ($1343 in this case). It is very important to mention the context and degree of wave 5 pattern is un-folding. Its part of a higher degree correction from 1900 levels where prices have fallen over 45%. Hence the new trend which is emerging now might has the potential to take the prices higher than just the start of wave (i).However, it is certainly too early to comment on magnitude of this new trend, and we should see $1343 as a reasonable target for 2016.