Nifty & Sensex selling to continue for the short term as we move closer and likely enter the Modi Era Support Range, but this article is for medium term and long term investors as we will soon be entering an important juncture in the market, which could turn out to be a great medium term opportunity.
In our last post we introduced a medium term trend channel which has been in action for most of this year. It has so far managed to contain the corrective phase from highs of 9100+. In our numerous posts we have mentioned about the importance of Modi Era Support Range (click to watch the video) and also the likelihood that prices may break and fall below the upper end of this range soon. Today we combine these two insights with time cycles and projections which are pointing us to something spectacular that is about to unfold in Sensex & Nifty. Chart follows:
[sociallocker]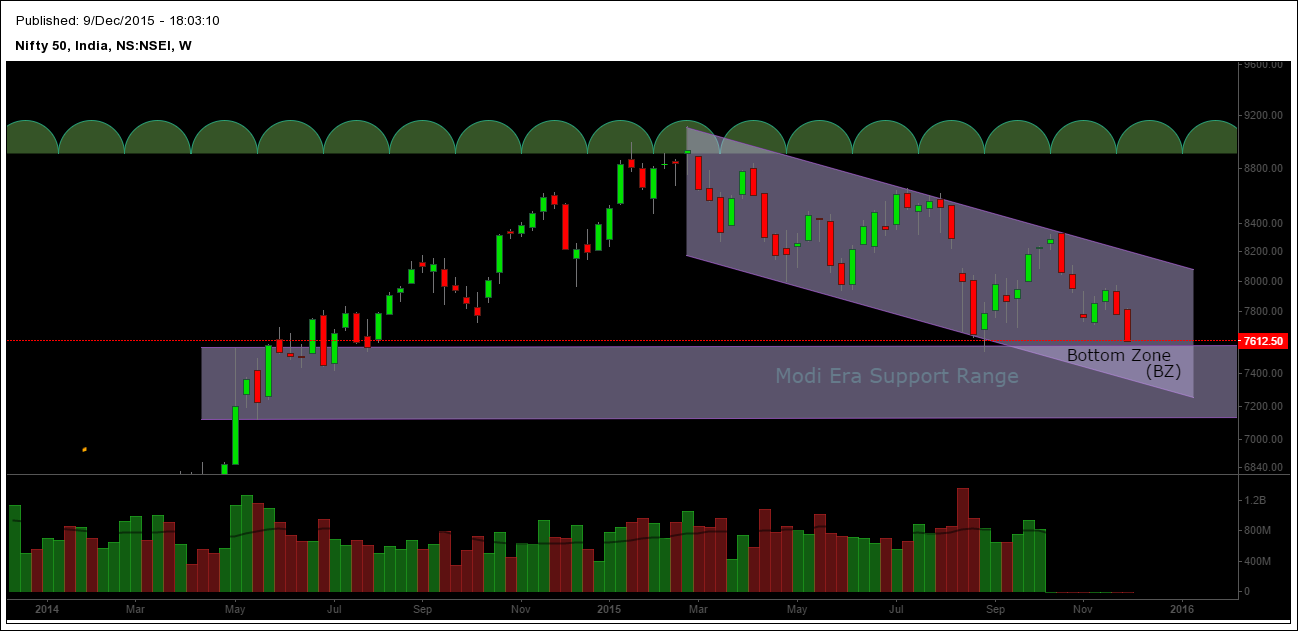 [/sociallocker]
Our trend channel and the Modi Era Support range are meeting to form an important zone which might well turn out to be an important bottom zone for weeks of correction in Nifty. The bottom zone is marked as BZ. Time cycles also point to an important turning point ahead. We are using 7-week cycle which has been correct in predicting important intermediate turning point in prices 11 out of 14 times for this corrective trend channel. Next week would be a peak for the time cycle and hence could turn out to be an important juncture for the market time-wise. We will also like to mention an important Fibonacci projection level of 7352 on Nifty (not shown on the charts). We would like to watch this level closely, but would attach least importance to this level when compared to other indicators.
Do remember that the U.S Fed policy meet is also scheduled next week for Dec 15-16 and many fundamental analysts would be looking at the event as they believe it will determine the future course of markets. We at IndianInsight.com though won't hazard a guess on what Fed would do next, but whatever they do (hike rates or not), technical channels, support ranges, time cycles, and fibonacci projections are pointing to an impending rally in the Sensex & Nifty which may begin as early as next week.
We have been on the right side of markets for quite some time now, which in itself should caution us against over-confidence. But, when so many technical indicators are pointing to something, we simply cannot ignore it. Also, we would like to remember the words of our finance minister Arun Jaitley as they seem to be apt for our current predicament:
"We do not stand alone. But on this issue even if we have to stand alone, it would be a majestic isolation"