In our last report we pointed to a short term channel that was being followed from 7714 lows formed on 16th November. We also mentioned how the upward price movement had lacked to exhibit the right price action for a sustained up-move.
We also mentioned and we quote:
"You see the current rally from levels of around 7700 is within a trend channel. For as long as the prices stay within this trend channel any of these key Fibonacci retracement levels of 7950 (38.2% level), 8024 (50% level) and 8100 (61.8% level) could become a key turning point. Notice that in the last post we mentioned the level of 7998 to be the key and how close it is also to the 8024 level. Which would imply that this narrow range 7998-8024 becomes more important. So a break above this range would be of great significance to bulls."
The Nifty made a high of 7980 and has seen a sharp fall since. It is quite uncanny how often corrective phases end up following a trend channel. This happens because the corrective move lacks the momentum usually associated with a trending move, which is why the prices fail to burst through the trend channel.
Today, we bring to you another trend-channel which is a medium term trend-channel as it has been in action for most of this year. It also tells us a lot about the selling Nifty has seen since making a high of 9120 in march of 2015. What we have applied on the short term trend channel is also applicable to medium turn trend channels. This channel will play an important role in determining whether we are seeing a prolonged correction from 9120 or a more sustained bear market.
[sociallocker]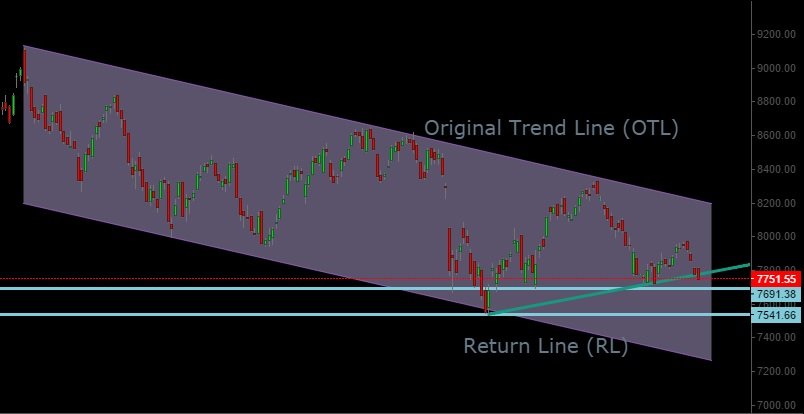 [/sociallocker]
Specifically a bear market would be confirmed if the prices are able to break through on the downside for this downward sloping trend channel. We have shown in the chart below two lines that are forming the trend channel. One is the Original Trendline (OTL) and the other is the return line (RL). Specifically break of RL on the downside would confirm a bear market (The rest of price action of the downward move from 9120 has been exhibiting a corrective move price action).
Also note in our 23rd November report we mentioned the high probability of Nifty heading for test of the Modi Era support range (7125-7561) where we mentioned how we anticipate the upper end of the range to not hold if tested again. The downward sloping trend channel and downward price momentum if maintained would likely result in prices end up in the middle of this price range.
From short term perspective 7725 level it is key for bulls. For short sellers, we would highly recommend initiating a short position at the break of 7714-7725 and keeping a 2 ATR stop loss. For long term investors until our medium term trend channels are broken on the downside, not only are we likely in a corrective phase, but also we are coming very close to end of this corrective phase, post which the bullish momentum in the market should resume.